During the 2018 FIFA World Cup Final last weekend, fans finally got their first glimpse of the highly anticipated Season 11 of Doctor Who. In this tantalizing teaser, Whovians got an extended look at Jodie Whittaker as the first female Doctor and her three new companions.
That's right, not one, not two, but three! It's going to be really crowded on the TARDIS this season.
Read original article on FANDOM.
In Entertainment Weekly's SDCC preview issue, Showrunner Chris Chibnall reveals that this new season of the classic British sci-fi show will focus on diversity. "Doctor Who is a big, popular, inclusive show. I wanted to feel that everybody who tunes in, around the world, has a character they can relate to."
What a better way to promote diversity than to have multiple companions from different ethnic backgrounds? The more the merrier! This next season of Doctor Who is already shattering glass ceilings with a female Doctor. Thanks to the addition of her diverse time-traveling trio, Season 11 will connect with an even broader audience.
YAZ – MANDIP GILL
Some viewers might recognize Mandip Gill from her run on the British soap opera Hollyoaks as a homeless teenager called Phoebe Jackson. Mandip also appeared in other British series like Cuckoo, Doctors, Casualty and The Good Karma Hospital.
Mandip was shocked when she first learned of her casting. Despite her talent, she never imagined a role like this would be in her wheelhouse. "Certain roles seem unattainable and this is one of those, so much so I didn't believe it to be true for the first few weeks." Well, you better believe it Mandip and we're all excited for you!
In an interview with Radio Times, she spoke about the importance of diversity on television. "When I was younger I didn't feel I was represented in popular culture — you couldn't get a brown doll in the shops and you didn't see many brown people on TV … now there's going to be millions of other people watching me and relating to my character."
Mandip Gill will be the first ever actress with Indian heritage to play a Doctor Who companion.
RYAN – TOSIN COLE
Tosin is known for his roles on the spin-off of long-running soap Eastenders E20 and The Cut. He was also a series regular on Hollyoaks alongside his co-star, Mandip. This rising star is not a stranger to sci-fi, as he had a brief role in Star Wars: The Force Awakens as Lt. Bastian.
Speaking with Radio Times, he says he's "looking forward to jumping in this Doctor Who universe" and that he hopes his role "will inspire and touch people."
GRAHAM – BRADLEY WALSH
Bradley Walsh is best known for his starring role in Law and Order: UK as Ronnie Brooks. Before his prolific TV career, he was a professional footballer. Now, he hosts the popular game show The Chase. He kept quite a busy schedule during the filming of Season 11, making trips back and forth from Cardiff to London to shoot three shows a day for The Chase.
Bradley was a huge fan of the original Doctor Who series growing up. "I used to watch Doctor Who as a child with William Hartnell and Pat Troughton in the black-and-white days, so being cast is brilliant."
To be frank, his casting is rather ordinary. He brings as much diversity to the table as any middle-aged white man possibly could, very little. But what his character, Graham, lacks in diversity, he will definitely make up for with his grounded personality and charisma.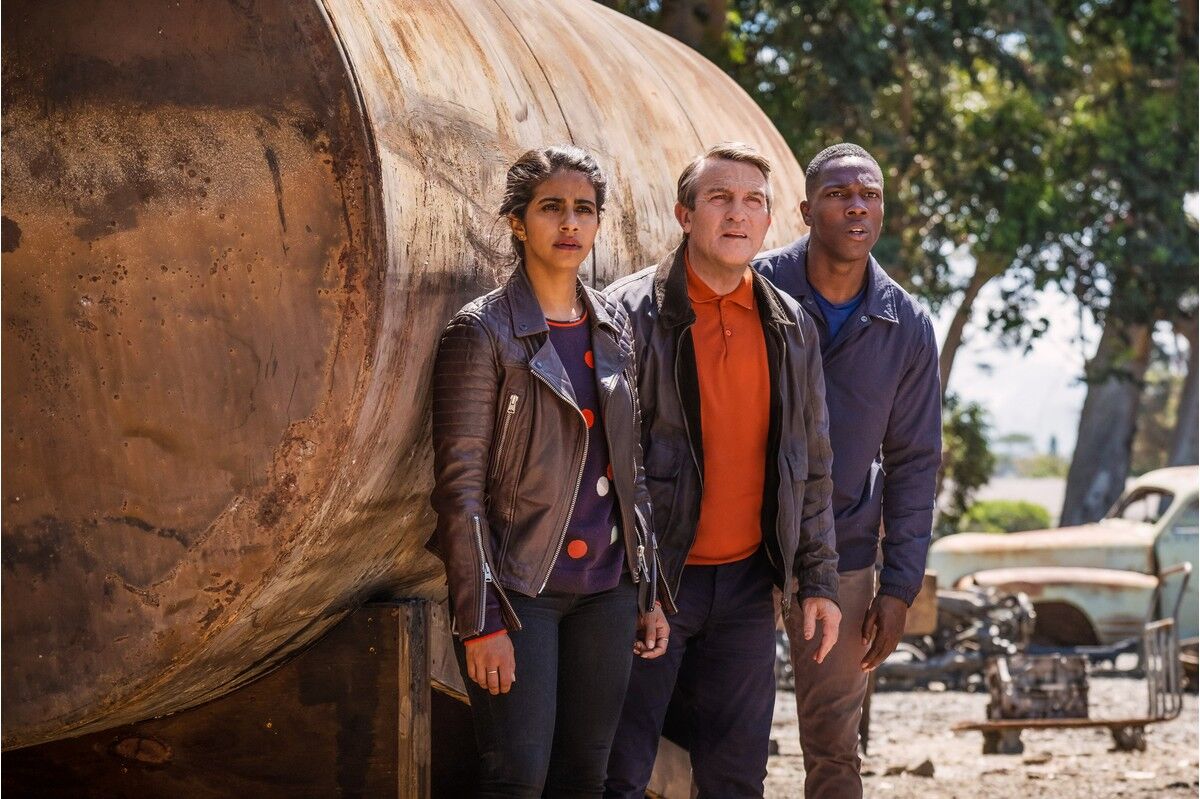 We're really looking forward to seeing these intriguing new Doctor Who companions in action. Exactly when that will be though, still remains to be seen. While a solid premiere date for Doctor Who Season 11 has yet to be announced, we do know it will arrive sometime in autumn.
For more updates on your favorite two-hearted alien Time Lord, subscribe to the Doctor Who topic page on FANDOM.